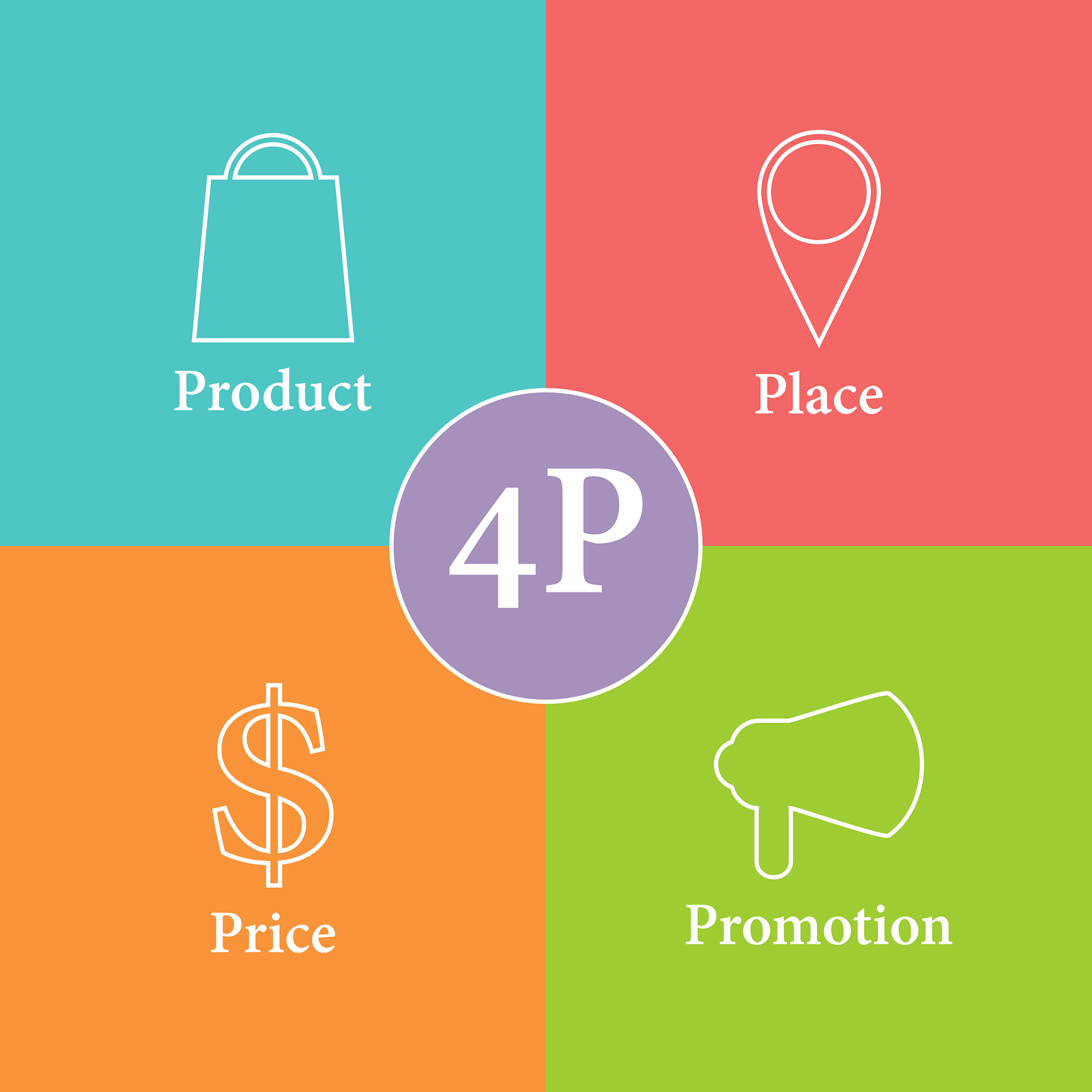 Marketing 101 – Synopsis of The 4 P's of Marketing: Product, Price, Promotion & Place.
Since I began studying marketing, way back in 1999, this is what I learned then and if you begin a University college education, this is one of the first frameworks you will learn today! Now many of you may scarper from this blog at this point and think that this has no relevance to marketing today and no relevance to businesses today!
Let me explain to you that in the last twenty years, I have tried to avoid the 4 P's! Their simplicity to me, meant they were not strong enough to use in business and yet here I am twenty years later writing about the 4 P's as a simple and impactful framework that YOU can use in your business to either launch a new product or service or to revise current offerings.
The 4 P's are incredibly simple and wonderfully powerful. If you have not come across them before, you may ask, what are they and how do they work?
Product: A Product, Service or Idea is something that fulfills the needs & wants of the customers.
Questions to ask yourself under the heading of Product (service) are as follows:
1. What benefits do you offer your customers?
2. Why should they pick your product or service?
3. What do you offer that is different to your competition? (differentiation)
4. Who are your customers?
5. Where do they hang out? (eg. what social media platforms do they use?)
Price:
The price you charge for any product or service, will serve two things. Firstly, it will determine the perceived quality of the product or service in the mind of the consumer (bear in mind, that the quality of your branding and packaging will help customers agree or disagree on your pricing strategy) and secondly it will decide your profit margins! If you price too low, you will severely impact your bottom line, and if you price too high, you run the risk of selling very little.
As such this is a delicate balance, that each individual business owner has to choose for everything that they sell. With this in mind, each entrepreneur needs to be VERY familiar with what benefits they are offering their customers with their product or service. If you refer to the questions under product, it is an excellent guide towards deciding on a specific price for anything you are selling.
Promotion:
This is where the action work kicks in, where you have to create a marketing strategy and execute it, to help sell as many products as you can to the marketplace.
The product and the pricing of your product, will help you to decide what promotion strategy to use. Bear in mind, every industry is different and every product or service is different. There is no one strategy that fits every business! if only it were so easy…
I see some advisers, offering the three / five/ ten steps or such like to guaranteed marketing success. If you see these run! They may act as a template but in all honesty will not work for EVERY product or service. There are simply too many variables.
Promotional Strategies to consider are:
1. A strong PR campaign – designed to let everyone know you and your product exists!
2. Decide at least two social media platforms on which to market your product (make sure your target market actually do hang out on this platform)
3. Website promotion
4. Retargeting campaign
5. Google ads
6. Facebook ads
7. In store promotion – product taste or test if relevant
8. webinars – online promotion
9. Blogs
10. JV Launch
These are just some of the promotional strategies you could use. Everything is determined by the product (service) that you are selling.
Place:
This refers to 'where' you are selling your product (service). If you own a physical shop, a gym or such like. This is the physical location or place that you are selling from. On the other hand you may be an online seller and as such your website is your 'place' Other aspects of place to consider is how are you going to distribute your product (service)