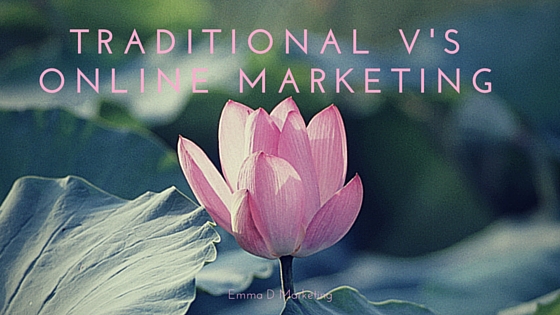 On the business and marketing front, we are coming into the final quarter and for many of you, you will be ramping up your sales funnels through a variety of marketing activities. Today, I am going to discuss Traditional versus Online marketing, with a view to helping you decide what combination works best for YOU and YOUR Business.
Many business owners seem to think they must use one or the other and in my experience you need to use elements of both. At the end of the day your marketing plan will consist of what will work for both marketing and selling your products and services. Every marketing plan is unique, with differing products and services, different locations and a different target market.
Traditional Marketing:
Traditional marketing falls mainly under four categories, namely; Print,  broadcast, direct mail & telemarketing.
Print marketing encompasses advertising space in newspapers, magazines, newsletters and any other printed material. Print marketing can be quite expensive and depending on your budget, newspaper advertising in particular can be very expensive, with little way of knowing the level of impact it has on customers.
On the other hand it can really help in creating brand awareness and used in conjunction with other marketing platforms, can work really well.
A top tip is to try and get an article written about your business, this strategy works really well in all businesses, because in the mind of the consumer your business must be good if you are being written about in newspapers or magazines. How can you do this? you can either hire a PR agent, again this can be quite expensive, so why not send some emails to journalists outlining your business and how it contributes to the local community for example.
Broadcasting is another traditional marketing option, this can include TV and or radio advertising. Again this can be quite expensive and depending on your budget, if you were to decide on this option, you would need a VERY clear idea of your customers, your brand and above all YOUR MARKETING MESSAGE and call to action. 
Radio advertising is typically cheaper than TV and  is often overlooked as an effective, less expensive option to TV. Remember, most people, that is your customers, spend ALOT of time in their cars, listening to their radio. This can be an excellent opportunity to advertise to them. Again, the ad itself needs to reflect your brand, in addition to effectively giving a clear marketing message about your product or service. I have personally advised several clients to use radio, in conjunction with using other marketing platforms and this combination worked very well. FYI, be very aware of your target audience, when making this decision, as the radio station you use, the programme being aired during your advertising time and other aspects of the radio station and its target market, need to be researched, before you make a final decision.
Direct mail, using postcards, brochures, fliers, letters and catalogues can all be used to convey your marketing message. Again, please consider  your target market and decide what marketing material they would like to receive and if this is a valid option. Typically, email marketing has taken the place of traditional direct marketing of fliers etc, again your final decision, will all depend on your business and target market. Points to consider is that you must have a consistent brand message and call to action on ALL marketing material, in particular print and please, please remember to include your contact details!!!
Telemarketing is basically using a cold calling method, where a business targets a specific geographical area and cold calls, as in calls residences from a phone list or similar. This method can be quite controversial, as it can obviously impede the privacy of individuals. It can work in a positive way, however it all depends, how personable you are on the phone and also if you can offer something to the recipient as a thank you for invading their privacy. I would advise thinking carefully about using this marketing methodology as it may cause more brand damage in the long run.
Online Marketing:
Refers to a litany of online platforms that can be used to market your business. Social media, is an obvious choice, for online marketing. The advantages to using social media are that they are free, that customers hang out there already and that it leverages the power of the internet, allowing opportunities to find international customers.
Some social media platforms, you may be familiar with are: Facebook with over 1 Billion users worldwide, Twitter, LinkedIn, Pinterest, Instagram & Google plus are probably the most used internationally. They all have their advantages and disadvantages as an end business user, some favour images, some favour text and depending on your target market, you can decide which platform or platforms to use as a means of marketing your business.
In this day and age, most businesses would require at a minimum a website. This is basically your online shop window and facilitates customers being able to view your product or service from the comfort of their homes. A website is an opportunity to demonstrate expertise, highlight your products and effectively convey and convince your prospective customers that your business can provide and deliver an excellent product or service.
Key points to note are to have your own brand compliant website, ensure your website is easy to navigate, don't 'hide' information or make it difficult for customers to find, put simply they won't look any further and are much more likely to migrate to a competitors website and purchase from there. Make your contact details easily available. Web designers sometimes like to have your contact details in an obscure place that does not interfere with the aesthetics of the website. However, personally I would rather my customers can find me and contact me easily!!!
Blogs can be a wonderful way of delivering really good value to customers in the form of giving excellent information, in addition it builds up a rapport with your customers, fostering the potential for future custom. It is a known fact, that it is much easier to remarket to older customers than find new ones!! With this in mind, look after the customers you have. They are the ones keeping you in business right now and treated right they will continue to do so in the future.
Livestream TV has become extremely popular since March of this year, with Periscope, Katch and Blab, leading the pack. There are fantastic opportunites within livestream TV to connect with customers, you normally would not be able to connect with.
In my experience, no one marketing channel works in isolation. A business owner must be very aware of all of the above marketing platforms available and centre their marketing plan around these choices and indeed around their overall business and marketing goals.
Most businesses do not have the resources to do everything and must decide on the most appropriate marketing platforms for them. I am a strong advocate for having an integrated marketing communications plan, which maps out, your business and marketing goals and helps to decide which platforms to use and includes both traditional and online marketing platforms.
Remember, a prospective customer needs to see your business brand SEVEN times before they make a purchasing decision, with this in mind repetition is key.